Names I go by: Patt and PattRose
Livejournal: PattRose
Facebook: Patt Paulos-Darrow
Pinterest: PattRose1

The fannish platform(s) I am most active on is/are: LiveJournal: PattRose, DW: PattRose,

My main contribution(s) to fandom is/are (writing, reading, reccing, cheerleading/prereading, art, modding, graphics, commenting,

Fandom(s) I enjoy: The Sentinel, Battle Creek, Almost Human, Person of Interest, Forever, Stargate SG-1, Longmire,

My favorite people/characters in this/these fandom(s) are: Sentinel: Jim/Blair and anyone else in the series, Battle Creek: Russ and Milt, Almost Human: John and Dorian, Person of Interest: Sam and John, Forever: Everyone. I love them all. Stargate SG-1: Jack/Teal'c, Longmire: Walt and Henry.

Pairing(s)/grouping(s) I ship within this/these fandom(s) is/are:
Jim/Blair, Russ/Milt, Dorian/John, I don't slash Person of interest, just ship John and Sam. Forever, I don't slash anyone. Stargate SG-1: Jack/Teal'c. Longmire: None, only day in alife stories there.

The type(s) of fanwork(s) I consume the most is/are fic/art/graphics/fanvids/:

Fanwork tropes/clichés I enjoy are: First times, established relationships, Humor, h/c, mild kinks.

Non-fandom things I enjoy: Reading, reading and reading. Hanging out with friends, making fleece blankets for grandkids and doing yardwork with hubby.:

I post/want to post mostly about: Politics (sometimes), grandkids, my dogs, fandom news, The Sentinel Big Bang.

One thing I am good at: I think that I have a creative soul. I'm a good Grandma and I'm a good friend to special people I adore.

Other things I want to share about myself: I'm going to be 65 and am raising my grand-daughter who is almost 12. We've had her for two years now and it's a nice fit. At first I thought I would have to give up fandom things, but it turns out, Sam loves Jim and Blair. LOL

Day 15

In your own space, write a love letter to Fandom in general, to a particular fandom, to a trope, a relationship, a character, or to your flist/circle/followers. Share you love and squee as loud as you want to. Leave a comment in this post saying you did it. Include a link to your post if you feel comfortable doing so.
Dear Fandom,
Twenty years ago, I met all of you. Well, not all of you at once but some of you. Alyjude is the one that talked me into joining in on the fun. Boy am I glad I listened. I've made so many friends. One of the friends, I have become very close to and we travel every year together. Lisa, Duncan's Twin has been the best of friends to me. But all of the people on my flist are what keep me going every week, every day and every year. I used to be lonely and shy, you helped me get over that. I became happy and outgoing all because of you. Thank you for doing that for me. I love my life now.
Love and hugs,
Patt

grey853
I don't tell you enough how much you mean to me. You're a great friend and one of my favorite people on the list. I think that we have a lot in common which makes it easier to be friends, but even if we didn't, I somehow think you would find a way to bridge the gap. Thank you for being my friend all these years. :)
Love, Patt
Day 13
In your own space, write about a moment in fandom that meant a lot to you. Leave a comment in this post saying you did it. Include a link to your post if you feel comfortable doing so.
My important moment in fandom was when I was asked to write for the ezine called My Mongoose. No one had ever asked for my work and I was both pleased and excited. I was thrilled also when Lisa, Duncan's Twin asked for help on running the ezine. ANd then I was asked to be co-mod on The Sentinel Big Bang. I stay very busy and love every minute.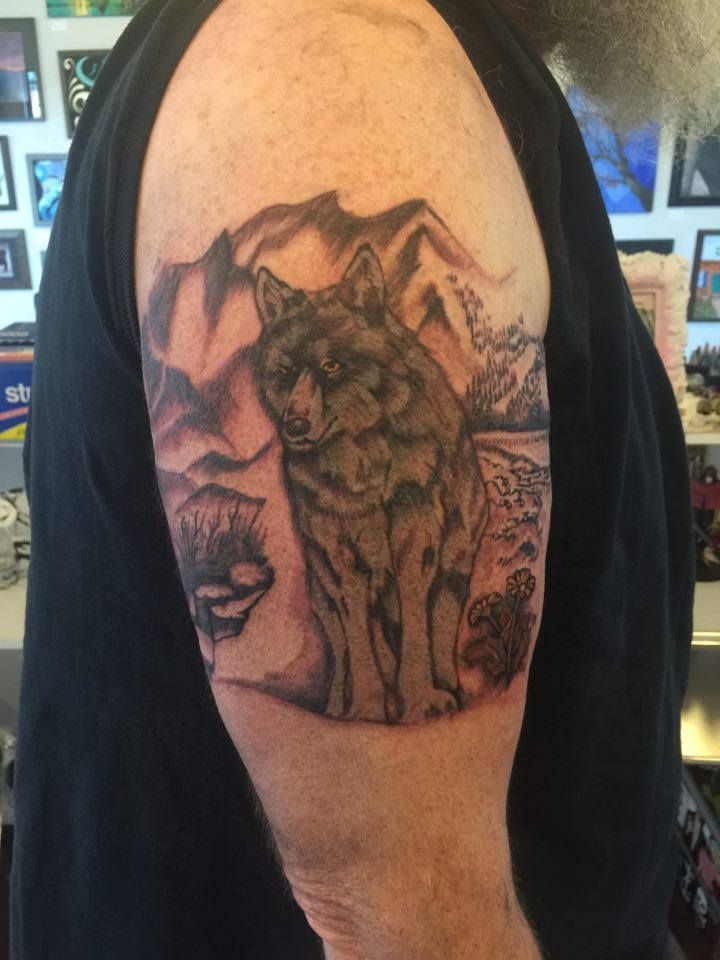 My son Thomas is a tattoo artists. Here are two he just finished doing today. The wolf one isn't all the way finished because the guy couldn't take it anymore. I love it, but I'm also in love with the ship. Stunning.
Does anyone know of any Sentinel lists on DW? I'm dying to join in on something, but can't find anything that has to do with Sentinel.


Now she is reading her book for her upcoming book report. She has learning disabilities, but she's overcoming them quite well. She's still behind, but continues to love reading anyway. Today she is reading Middle School, the Worst Years of My Life. She said it's good so far. She starts middle school next year.

I hope everyone is having a great week. So far ours is super.

Hugs, Patt
Sam (my grand-daughter that we're raising) and I worked on Thank you cards all day. She's slower than molasses. She had a croupy cough this morning so I kept her home. She's feeling better and I thought it the perfect time to catch up on things. We finished, yay!