Our great-grandson was born on December 8th. It was a very hard delivery but everyone and everything is good. He's precious. His name is Kallan Wayne. He weighed 7 pounds. He is 20-1/4 inches long. We're all in love. 💕❤️


Update: I have been swimming for five weeks now. I've lost 22 pounds so far. I'm hoping for another 15 for December, but I don't know how that will go with sweets. :) *grin*
I started swimming on October 18th. I swim three times a week and watch what I eat. As of today I have lost 14 pounds. I have so far to go yet, but I'm really happy with the results so far. I'm determined to get a waistline again. LOL I'm also getting a very nice tan. I don't burn or anything, just a nice tan. I feel much better. I still have bad days now and then, but I'm trying to focus on the good ones. And there are a lot more of them. Thank you, everyone, for believing in me. Woot.
This is how tan I'm getting. And I have freckles all over the place. I'm having a lot of fun and that's what's most important. Hopefully, I won't get bored with it. Because it's bound to make my back stronger. That's a good thing.
Have a great weekend.
Hugs, Patt
swimming until I get all the weight off that I need to. I started last week, in fact tomorrow will be my fourth day swimming laps. I've never swam a lap before. Just goofing around is what I always used a pool for. But now I mean business. I've cut back on some of my food intake and do 15 laps every day and I stood on the scale today and have lost ten pounds. It would be more exciting if I didn't have to lose another 50. But I'm thrilled with the progress so far. It's an outdoor pool, so I'm getting really tan in the sunlight.


Hugs, Patt
I have to have some tests, but otherwise I'm doing Jim-dandy. I'm going to start swimming three times a week on October 16th. I found the place I want to join. It's an outdoor pool, but the temperatures stay at 80-84 degrees all fall and winter. December they close for three weeks near Christmas to fix the place up and make sure everything is going well. I'm excited. My friend K.C. is going to meet me there every Monday, Wednesday and Friday and we'll work out together. She's trying to lose weight too. :) My doc said if I could lose 30 pounds, it would be awesome. So I'll shoot for that right now and see how it goes. She also said lose the carbs that I eat every day. What???? Carbs? Holy Moley. Everything has carbs. I'm Italian for crying out loud. What would my grand-mother say about that? LOL It's going to be a fun month I think. I Love to swim and do water aerobics.. I hope all of you have a wonderful weekend. Tomorrow is Friday. Yay!!!! Be well, everyone.


Hugs, Patt
I'm so sad. She was two years older than me. Way too young to go. She fell in her apartment, hit her head and never woke up again. She went into a coma and there was no brain function and she died this morning when they took her off life support. It's just unreal how fast something can happen. She will be missed, but I also know that she never got over loosing her 13 year old daughter years ago. I'd like to think she's in heaven with Jennifer right now. We really need to not waste time on silly things. INstead love the ones you're with and keep in touch with those you aren't. I'll miss her terribly. Now I have another angel to look out for us.
They are up in Mt. Lemon, trying to cool off. LOL It's very cool up there and hot down here. She's a little over six and a half months pregnant now. Kallan is doing well. (That's the little guys name when he makes his appearance.) She's only about 5' 3" tall and Tyler is about 5' 7" tall or so. Maybe 6". Chances are the baby might be shorter. :) I can't wait until the big day. Her baby shower is October 1st and we're thrilled about that. Fun, fun, fun. Anyhow, here is the little Kallan baby bump.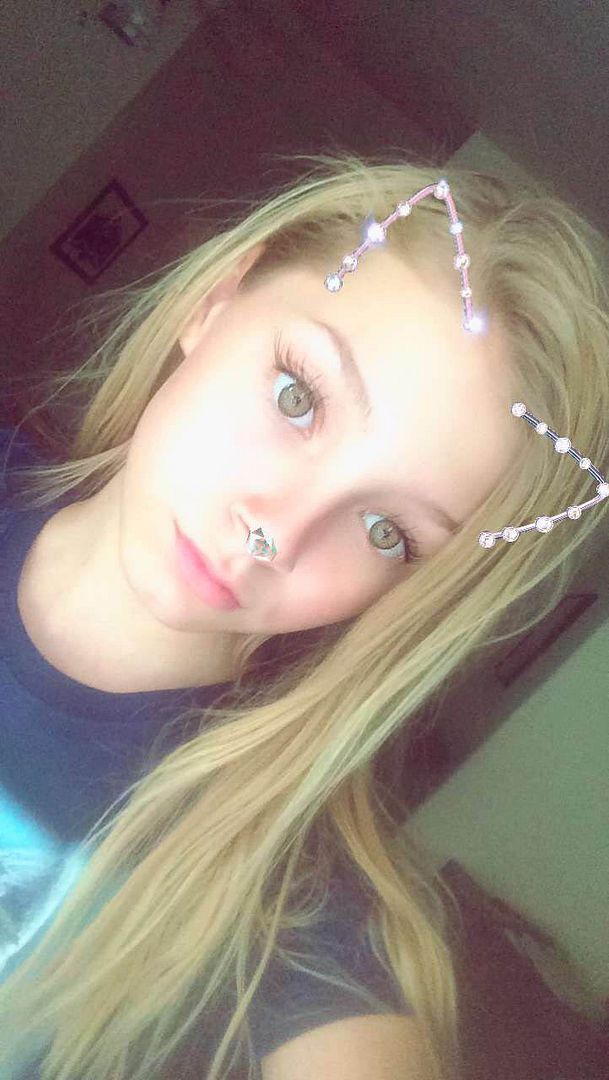 This is our grand-daughter, Sam. My husband and I are raising her. She's such a good kid and we're grateful for that. This is her latest snapchat photo. I told her it looked like she had something on her nose or in her nose. She said, "There is something on my nose. I put it there for looks." Kids, what can you do? LOL
She's growing up so fast. This is from snap chat. She can only do the photos on it, I'm mean. *grin*